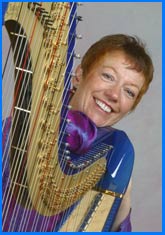 Welcome to Madeleine's website.
Trained as a Celtic harpist / singer in Ireland, Madeleine won a scholarship to study classical music in the US where she studied concert harp.

As a solo artist she has toured Europe, the US and the Caribbean and has recorded for radio and television in Ireland, France, Germany Belgium and America.

Madeleine is a freelance concert harpist and singer. She plays both celtic and concert harp. Her Little Big Blue concert harp was made by Camac, the well-known French harp manufacturers.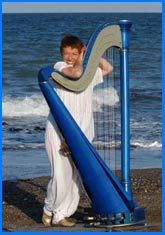 Madeleine works with other musicians, recording both in Ireland and abroad and was a long time member of the RTE Philharmonic Choir. Projects include harp improvisations on film scores for India's most exciting groundbreaking composer A R Rahman (whose film score for the film Slumdog Millionaire won a Golden Globe). She has also worked with Jimmy MacCarthy whose songwriting hits include Mystic Lipstick, Ride On, No Frontiers and The Contender. She has written original music to accompany poetry, backing music for a dramatic monologue and musical interpretations of rhythm using improvisation.
---
---

Madeleine at a recent performance in the National Concert Hall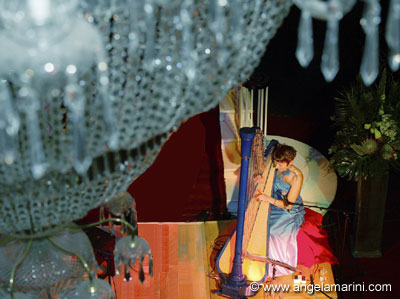 ---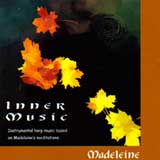 Inner Music is a triple album of instrumental harp music based on Madeleine's meditations. Composed for relaxation and healing, the soundscapes of the tracks reflect their contemplative nature (the shortest is over 13 mins long). The style of the music is ideal for situations where an atmosphere of quiet calm is required. Each CD has at least an hour's playing time. The complete set of three has over three hours and 44 minutes of playing time. Click below to sample some music from the CDs.

Flowering Lotus
Listen
Download
Hari Om
Listen
Download
Single CD - €12.00, Complete set of 3 CDs - €30.00
Buy CDs
---


Paypal is a specialist payment provider that allows complete assurance when buying online. You can use it to safely order and pay for Madeleine's CDs online. You donít need to have a Paypal account to use this facility.



Latest News



Video/Audio Samples



Colour Practice
Madeleine is a colour practitioner and teacher. In her workshops and talks she introduces people to the beautiful language of colour to assist them achieve insight regarding their personal journey and the challenges life presents.

In her private consultations, Madeleine sets a sacred space where individuals can safely explore the inner aspects of their lives.



Recordings - Buy Cds Here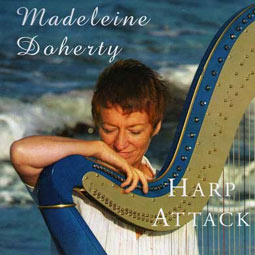 Madeleine's albums use very different styles. Harp Attack is a jazz/world style EP containing three original pieces and is a preview of the album Living Notes.

Colors of Trance is a dance album using rave and trance loops. The thirteen tracks represent a musical interpretation of colours.

Fiolar is a performance recording of meditational music and song played on a Celtic Harp. There are no other instruments and the style is gentle and contemplative.